Our VA Loans in Kansas City are mortgage backed by the Department of Veterans Affairs (VA). Therefore, VA home loans are only eligible to military personnel members and Veterans. You can buy a home with a VA mortgage loan with little or no down payment or refinance an existing home to get cash out or lower your monthly payment. The mortgage rates for a VA loan 30-year fixed rate and VA loan 15-year rates are very low and are available on a first mortgage.
There are three types of VA loans: purchase loans, interest rate reduction refinance loans (or IRRRL, also referred to as a VA streamline refinance loan), and cash-out refinance loans. There are many benefits to a VA loan, but one of the biggest benefits is that no down payment is required for a home purchase. This can make home ownership a reality for active military or veterans who might otherwise not be able to afford it.
Get Started on your VA Home Loan Pre-approval today!
What are the Benefits of VA Loans?
Metropolitan Mortgage is a VA mortgage lender offering military personnel members, Veterans, and eligible surviving spouses favorable VA loan terms. The VA loan program offers some of the most attractive and flexible loan benefits available. Perhaps the two biggest benefits that make these loan more affordable than a typical loan are that the homebuyer typically does not need to make a down payment, and there is no private mortgage insurance (PMI) requirement. A VA loan is a great benefit to Veterans and military personnel during their military service.
A VA loan offers the following advantages:
Negotiable and competitive interest rates.
Ability to finance the VA funding fee (plus reduced funding fees with a down payment of at least 5 percent and exemption for veterans receiving VA compensation).
VA rules limit the amount you can be charged for closing costs.
Closing costs are comparable with other financing types (and maybe lower).
The seller may pay closing costs.
No private mortgage insurance premiums are required.
An assumable mortgage.
Right to prepay your mortgage without penalty.
For homes inspected by VA during construction, a warranty from builder and assistance from VA to obtain the cooperation of builder.
VA assistance to a Veteran borrower in default due to temporary financial difficulty.
What are the Loan Limits on VA Loans?
In general, the maximum Conforming VA loan limit is $510,400. However, there are Jumbo VA loans to $700,000. However, the loan amount is subject to the following criteria:
With a Jumbo VA Loan, Veterans home buyer can apply for a loan amount up to $700,000 and will only need a down payment of 25% on the difference between $510,400 and the purchase price of the home.
For example, Veteran homebuyers want to purchase a home that costs $600,000. Veterans would be required to pay 25% down on the amount over $510,400.
$600,000 – $510,400 = $89,600. Then $89,600 x 25% = $22,400. This would be your down payment. This payment is still considerably lower than the 10% traditionally required for jumbo loans.
Cash-Out Refinance VA Loans
VA Loans offer cash-out refinance help. Veterans handle big-ticket items – college, health expenses or debt, for example. Effectively, you pay off the remaining balance and take out a new loan for the appraised value of the house. Much of the difference can be taken as cash-out.
Interest Rate Reduction Refinance Loan (IRRRL)
A VA loan Interest Rate Reduction Refinance Loan (IRRRL) helps military personnel members or Veterans refinance at a lower interest rate. Refinancing can help lower your monthly mortgage payment, change your loan term or turn an ARM into a fixed rate. Other VA Loan advantages include:
There is no appraisal or credit underwriting
No Income and/or asset verification
No out-of-pocket expenses
Rolling all costs into the new loan
Who is Eligible for VA Loans?
Qualified military personnel members or Veterans are those that have received a discharge other than dishonorable from an eligible branch of military personnel, including the U.S. Army, Navy, Air Force, Marines, Coast Guard, Nat. Guard and Reserve and U.S. Military academies. They also meet the military personnel requirements charted below.
Veterans may be eligible for a VA Loan if you meet one or more of the following conditions:
Served 90 consecutive days of active military personnel during wartime, OR
Served 181 days of active military personnel during peacetime, OR
You have more than 6 years of military personnel in the National Guard or Reserves, OR
You are the spouse of a military personnel member who has died in the line of duty or as a result of a military personnel-related disability.
VA Loan Rates
| Term | Mortgage Rates | APR | Points |
| --- | --- | --- | --- |
| 30-year fixed | 3.000% | 3.340 | 0 |
| 15-year fixed | 3.000% | 3.180 | 0 |
| 5 Yr ARM | 3.000% | 3.425 | 1 |
VA Loan Options
Fixed Rate Loans
VA loans are available in a Fixed rate mortgage, 30-year and 15-year fixed rate options. Both options offer the same interest rate stability, but the shorter the term the higher the monthly payments, giving Veterans a faster way to build up home equity. Veterans can use this higher equity as a down payment for their next home.
VA Loan 30-year fixed rate and VA loan 15-year rates are available on the Mortgage Rates page below.
Adjustable-Rate Loans
The flexibility of an Adjustable Rate Mortgage (ARM) can be appealing to current military service members or Veterans. For example, members expecting to move in the next few years. Therefore, this type of variable rate loan is best for shorter terms of homeownership.
VA Loan Funding Fee Table
Ability to finance the VA funding fee (plus reduced funding fees with a down payment of at least 5 percent and exemption for veterans receiving VA compensation).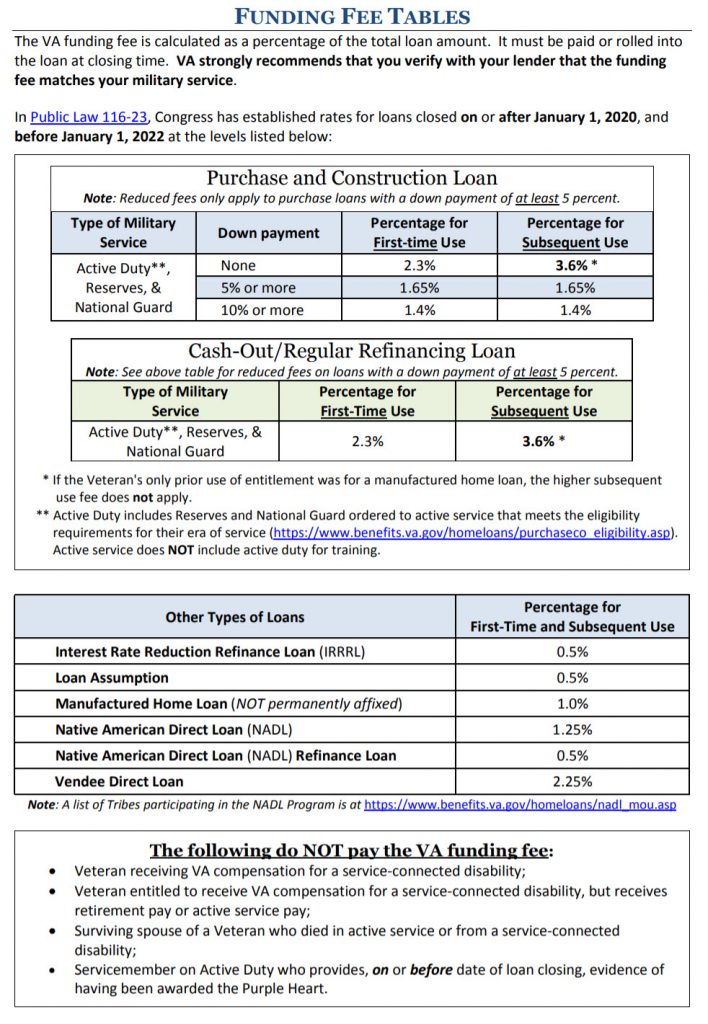 **Metropolitan Mortgage Corporation is not affiliated with or acting on behalf of or at the direction of FHA, VA, USDA or the Federal Government.
Have Questions? Speak with an experienced Loan Officer to discuss your home mortgage options. Contact Us online or call 913.642.8300.