Kansas City Mortgage Lender
offering Historically Low Rates
FREE, No Obligation Quote in minutes - Call us at (913) 642-8300
#1 Rated Mortgage Company in Kansas City KS
Welcome to Metropolitan Mortgage Lending in Kansas City
If you are looking for a local mortgage lender, we are the company to turn to. We have been serving Kansas City since 1996 with honesty, integrity, and expertise. Making us one of the best companies to choose from. We are locally owned and operated and offer the lowest rate.
Through our unique home loan programs, we provide a stress-free home buying experience. We are committed to making the process simple and enjoyable. We've streamlined the closing process to ensure a smooth and stress-free process.
As an experienced lender, we will guide you to the best real estate loans; Conventional Loans (Fannie Mae and Freddie Mac), FHA (Federal Housing Administration), VA Loans, USDA, HELOC or Jumbo) and the best lending program to suit your needs. With numerous financial products, we are certain that we will have the perfect product with the best interest rate for you.
A small difference in the interest rate or other home loan terms can equate to tens of thousands of dollars either spent or saved. But with so many lending options available, it's hard to know where to start. We know that obtaining the best home loan terms on a fixed-rates or adjustable-rates is the leading decision when shopping for a lender. The second is obtaining the lowest closing costs and rate for your credit report (credit history and credit score).
If you are looking for a lender near me, we have a solution that is just right for you.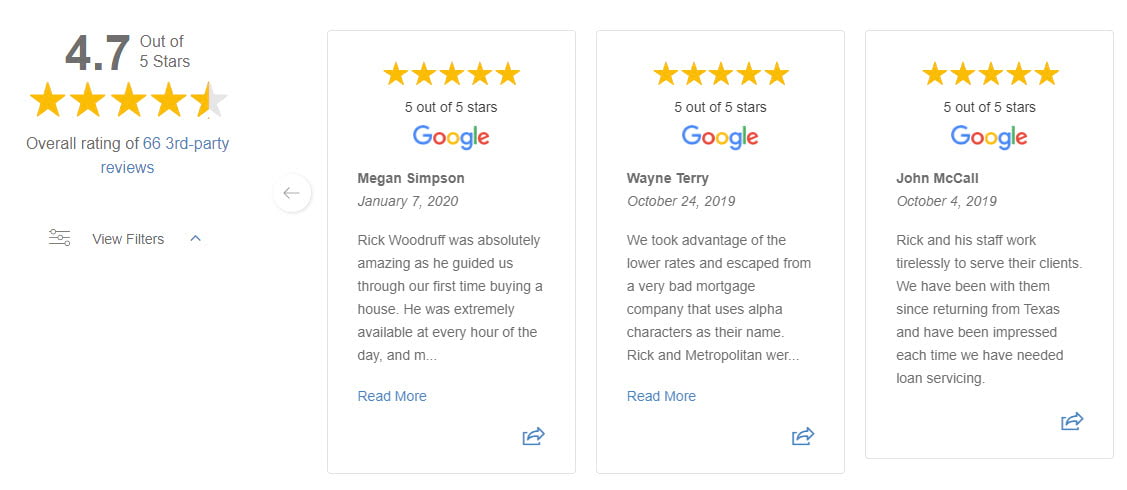 Kansas City Mortgage Broker
We pride ourselves on personal service for the long-term and surround ourselves with the best service providers in the industry. Creating a referable experience for homebuyers and real estate partners. In fact, a significant portion of our business is referrals, which we have been privileged to assist.
If you are looking for a home loan lender that answers their phone, give us a call. From the real estate agent, Title company, Financial Adviser, Insurance agents and Underwriters, all with the highest and best level of customer service, we have you covered.
We are the recipients of the 2020 Five Star Award. This represents fewer than 3 percent of Loan Officers. Our production levels, our partnerships, and our client satisfaction ratings say it all. Let us help you make your dreams a reality, visit our local office today.
Are you're looking for the best company that will work in your best interest? Give our local Metropolitan Mortgage office in Overland Park a call at 913.642.8300.
Customer satisfaction is our number one priority! We offer an online loan pre-approval and calculators to help you with running monthly payment scenarios. You can also download our mobile app and run monthly payments on the go while shopping for your new home.
Enjoy Hassle-Free Lending
We are the mortgage lender for a home purchase or refinance. Specializing in products helping first-time home-buyers with with a low down payment on FHA, VA, and Conventional. Even if you have borrowed a lot of student loans, our home loan products offer a lower rate and allow for higher debt-to-income ratios to help afford a new home.
You need a local lender that is dedicated to helping you every step of the way. That's why it's so important to work with a broker that puts your interest above their own. We take the time to carefully understand your personal needs.
Our customer service approach has made us one of the highly respected and best companies. Our goal is to provide the lowest interest rate available to save you every month.
Take this opportunity to learn more about the lending process. Find information that will help you with the purchase of your new home. Fill out our no-obligation application to see what interest rate you qualify for and obtain a pre-approval letter. Below and throughout this site, you will find information that will help you with the purchase of your new house or refinancing an existing home.
When you submit an offer on a house, a pre-approval makes your offer much stronger as the seller knows that you are more likely to get approved. Once your offer is accepted, contact our office to get started on your low rate financing.

The Best Home Loan from a Company in Kansas City That You Can Trust
Kansas City's housing market, quality of life, and reasonably priced neighborhoods attract many first-time buyers. Buying your first house is an exciting venture in your life and is a major decision that affects your financial situation for years to come.
That's why you need a company that puts your interest above its own and will guide you through purchasing a home. An experienced loan officer at Metropolitan Mortgage will personally assist you throughout the process and assist you with the right program and the lowest interest rate that meets your needs.
Our local office makes it easy to schedule a meeting with one of our experts and answer any questions you may have. With interest rates near all-time lows, now is the perfect time to buy your dream home. Contact the Lenders that specialize in first time home buyers.
Offering Historically Lows Rates, Act Fast!
Apply today and see how a low interest rate can save you money on your monthly payment! Call our office located in Overland Park, KS at (913) 642-8300.
Kansas City's Top-Rated Mortgage Lender
Metropolitan Mortgage Corporation is located on 7381 W 133rd St #200 Overland Park. From Kansas City International Airport (MCI) head southwest on Cookingham Dr toward International Cir and continue straight onto International Cir. Then use the 2nd from the right lane to turn slightly right onto Rome Circle Entrance and slight left toward Rome Circle Exit. Next, turn left onto Rome Circle Exit and slight right onto International Cir. After that use the middle 2 lanes to turn slightly left to stay on International Cir and continue straight to stay on International Cir. At this point keep right to continue on Cookingham Dr and continue onto NW 120th St. Head straight for 0.4 miles and use the right 2 lanes to merge onto I-29 S/US-71 S via the ramp to Kansas City. In 9.1 miles merge onto I-29 S/US-71 S and use the right 2 lanes to take exit 3B for Interstate 635 S toward Kansas. Then continue onto I-635 S and use the right lane to take exit 1A for Interstate 35 S toward Wichita. Next, merge onto I-35 S. Keep right at the fork to continue on US-69 S/Overland Pkwy, keep left to continue on US-69 S and keep left to stay on US-69 S. Next, take the 135th St exit and use the left 2 lanes to turn left onto W 135th St (signs for Grandview St). Finally, use the left 2 lanes to turn left onto Riley St and turn left. Turn left twice and Metropolitan Mortgage Corporation will be on your left.
We are open 8am – 8:30pm.
For additional questions you can call us at 913 642 8300 or you can find us on Yelp.