Start Your Homebuying Journey with Metropolitan Mortgage
We have specialized knowledge in the field of homebuying. We help guide homebuyers through the mortgage process. This ensures a smooth and confident experience.
Discover why Metropolitan Mortgage is the best mortgage lender in Overland Park. We strive to exceed your expectations. Experience our superior service firsthand.
Today's Featured Mortgage Rates
Metropolitan Mortgage Corporation truly grasps the significance of securing the most favorable mortgage rates for your home purchase. Our commitment lies in providing highly competitive rates crafted to align with your individual requirements. Embark on a journey through our up-to-the-minute mortgage rates and uncover the perfect fit for you. – see mortgage rates.
Rates above may change at lender discretion and may not be available at the time of loan commitment or lock-in.
Purchase a Home
Begin your journey towards homeownership with ease through our convenient pre-approval process. Our team of knowledgeable Loan Officers are here to assist you in your home buying journey. Take the initiative today and start your pre-approval process to set the wheels in motion for your future home ownership.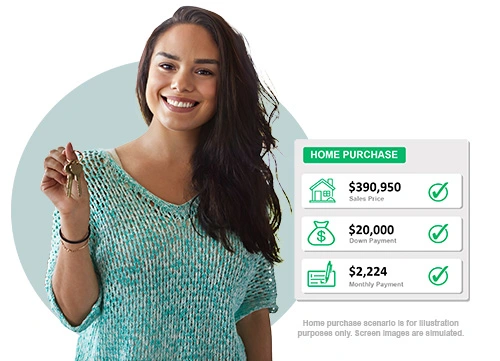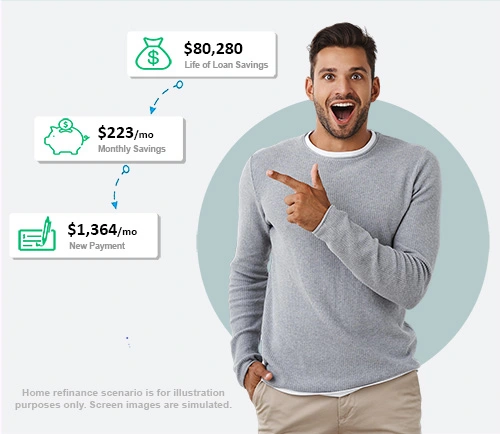 Refinance a Home
Interested in lowering your monthly mortgage payments or accessing the equity in your home? At Metropolitan Mortgage, we offer a range of refinancing solutions tailored to help you achieve your financial goals.
Our refinancing options are designed to give you flexibility and savings. You can use them to secure a lower interest rate, shorten your loan term, or consolidate debt.
Take the next step towards financial freedom. Click to learn more about our refinancing options. This will allow you to make informed decisions about optimizing your mortgage.
Learn about mortgage loan programs 
Discover an array of loan programs that cater to diverse financial situations and goals. Whether you are a first-time or experienced homebuyer, our loan options are designed to fit your individual requirements. We offer a wide range of options to suit everyone.
We offer a variety of loan options. Conventional loans offer stability, while government-backed programs offer additional benefits.
Our team is dedicated to providing transparent explanations and personalized advice. This empowers you to select the loan program that aligns perfectly with your unique requirements.
We have unmatched expertise and dedication to customer satisfaction. You can be sure that you will make wise decisions during your home loan process. Unveil our comprehensive range of loan programs and explore the possibilities that await you.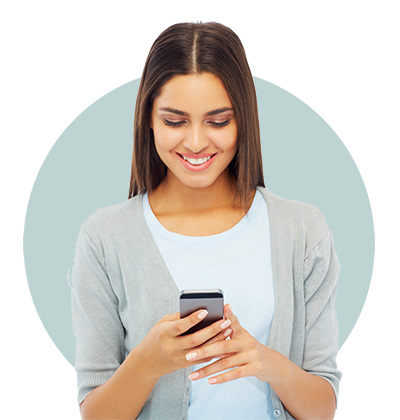 Your Trusted Kansas Mortgage Lenders
Read what our satisfied clients have to say about their experiences with Metropolitan Mortgage Corporation. Our excellent customer service and commitment to transparency have earned us rave reviews. Check out our customer reviews here.

Benefits of Choosing Metropolitan Mortgage
Exceptional Customer Service: We prioritize your satisfaction and provide unparalleled customer service. Our team is dedicated to answering your questions promptly, keeping you informed throughout the process, and ensuring you feel confident.
Competitive Rates and Flexible Options: We offer competitive interest rates and flexible mortgage loan options. We work diligently to find the best mortgage solution that aligns with your financial goals and circumstances.
Expert Guidance: Our mortgage experts have in-depth knowledge of the local market and can provide valuable insights and advice. We take the time to understand your unique situation and customize a mortgage plan that fits your specific needs.
Our Services: Simplifying the Mortgage Journey
At Metropolitan Mortgage, we offer a comprehensive range of mortgage services to make your homeownership dreams a reality. Our experienced team of kansas mortgage brokers guides you through every step, ensuring a smooth and hassle-free process.
Contact Us Today
When it comes to choosing a kansas mortgage company, Metropolitan Mortgage is the name you can trust. Let us guide you through the mortgage lending process and help you achieve your homeownership goals. Contact our friendly team today to schedule a consultation or apply online. Experience the Metropolitan Mortgage difference.
License Information
Metropolitan Mortgage Corporation | NMLS #227722 | Licensed in Kansas
Branch:
Address: 7381 W 133rd St STE 200, Overland Park, KS 66213
Phone: (913) 642-8300
HOURS OF OPERATION:
Monday       8:30 AM-5:30 PM
Tuesday       8:30 AM-5:30 PM
Wednesday  8:30 AM-5:30 PM
Thursday      8:30 AM-5:30 PM
Friday           8:30 AM-5:30 PM
Weekends – appointment only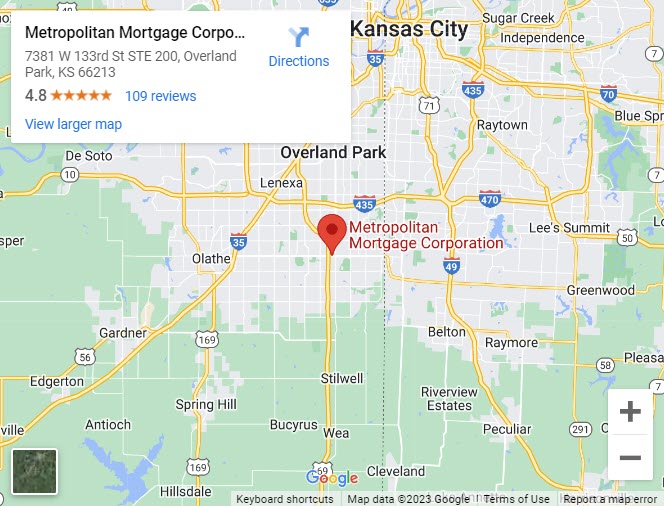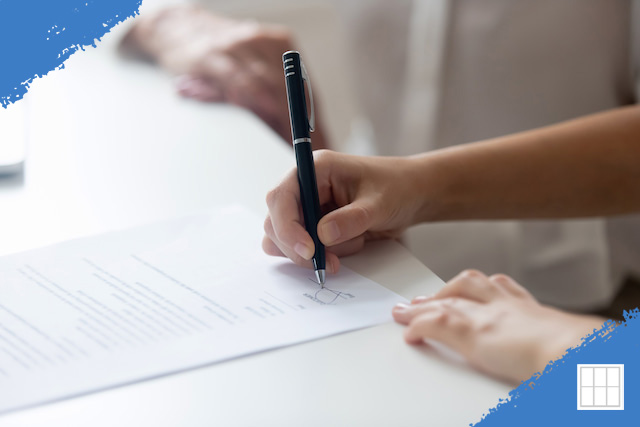 September 4, 2023
Are you in the market for a new home but need help with your finances?…