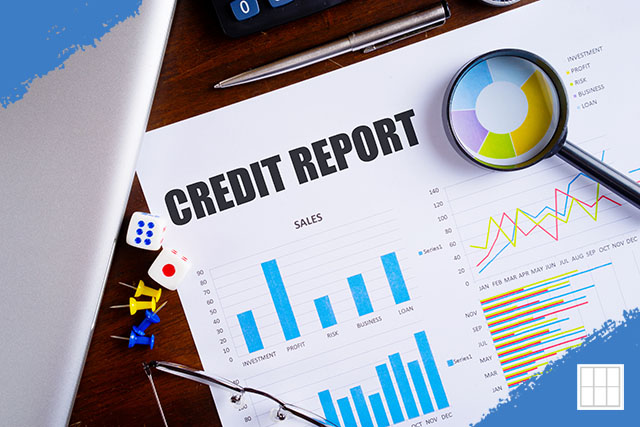 Credit: How to read a credit report
Did you know that your credit report is one of the most important documents for getting a mortgage or loan? This report shows lenders how responsible you have been with your money in the past, which can impact your interest rate and approval for a loan. While you may be unable to change some aspects of your credit history, there are ways to improve your credit score. Knowing how to read your credit report is essential to maintaining a good score. Let's take a closer look at what this document contains and how you can make the most of it.
How to get a credit report
You can receive a free copy of your credit report each year from the three major credit reporting agencies: Equifax, Experian, and TransUnion. Likewise, you can obtain all three credit reports by ordering them online from AnnualCreditReport.com.
How to read your credit report
A credit report is a detailed history of your credit use and payment behavior. It's important to review your credit report regularly to ensure the information in your credit report is accurate and up-to-date. Then by understanding what's in your credit report, you can take steps to improve your credit score if necessary. Here are some tips for reading your credit report.
Personal information
Your personal information includes your name (including former names and any aliases), Social Security number, and birth date. Your report includes current and previous addresses along with contact information.
Therefore, make sure the information pertains to you, not dependents, ex-spouse(s), or somebody else whose identity might be similar.
Tip: Check for typos and incorrect identity information
Employer history
Your credit score won't consider any previous employers you may have had, but it's worth checking out just in case.
Suppose there are errors on your report, like company names that don't look familiar or an incorrect assertion about where the work was performed. In that case, this could be a problem because they indicate possible identity theft when someone fraudulently use a persons credentials to apply for loans and other financial services.
Tip: Make sure you recognize all employers listed
What affects your credit score
Your credit history is the most extensive section of your FICO score, and it's essential to maintain a good payment record. For example:
35% – Thirty-five percent comes from your payment history
30% – Thirty percent comes from amounts owed
15% – Fifteen percent is based on your length of credit history
10% – Ten percent on your credit mix
10% – Ten percent comes from your new credit
Your credit history is a vital part of your overall financial well-being, so carefully check for errors in this section.
Credit History
Your credit history on your credit report will reflect the following components:
Current and closed accounts. Including individual accounts, joint accounts, and ones where you're listed as an authorized user. You'll see revolving credit, like credit cards and home equity lines of credit, and installment loans, like student loans, auto loans, or mortgages.
Payment history A record of all your payments, mainly whether or not minimum payments were made on time. Negative credit accounts will show any payments that are missed. Past-due amounts are reported as 30, 60, or 90 days late.
Current balances. This includes the present balance when the issuer reported to the bureau and the highest balance that has been used on the account.
Names of creditors. Each account lists the name of the lender and the date the account was opened. Your credit report doesn't reflect information about individual purchases.
Credit limits The current credit limit for revolving accounts and the original loan amount for fixed installment accounts.
Account opening or closing date
Account status on the report will show open, closed, paid, refinanced, transferred, or foreclosed. A charged-off account, which is a debt between 90 and 180 days past due.
Even though you've closed an account or paid off a loan, the accounts will appear in your credit history for a long time. Negative credit information — late payments, delinquent loans, and charged-off accounts — can remain on your credit report for a period of seven years. In addition, closed accounts that are in good standing will disappear from your credit report after ten years.
Tip: Review payment history thoroughly
Public records
Knowing how to read your credit report will include public records which includes bankruptcies, tax liens, and judgments, which can impact a person's credit score. For example, a bankruptcy can indicate that a person is not financially responsible and is at a higher risk of defaulting on future loans. A tax lien can suggest that a person has not paid taxes owed to the government. Additionally, a judgment can indicate that a person has been sued by a creditor and has not paid the judgment.
Tip: Negative public records can seriously impact your credit score
Credit Inquiries
A credit inquiry is a notation on a credit report that indicates when someone has accessed the credit report. Credit inquiries are made by lenders, landlords, and other businesses which are interested in extending you credit or renting you property.
There are two types of credit inquiries:
Hard inquiries – are made when you apply for credit, and they can affect your credit score.
Soft inquiries – are made when someone checks your credit report without trying to get new credit, and do not affect your credit score.
Check your credit report.
You should regularly review your credit report for errors or indicate potential identity theft. For example, these errors could include:
Accounts that you don't recognize
An address that you've never resided at
A previous spouse that's remains listed on a bank account, credit card, or a loan.
An inaccurate late payment or delinquency.
To dispute any inaccuracies, you must provide documentation to support the errors. Specifically copies of documents to support your case, which could include bank and credit card statements, loans, or death certificates.
You will need to provide proof of your identity, which includes your date of birth, social security number, and a copy of your driver's license or passport.
How to dispute credit report errors
Experian, Equifax, and Trans Union allow you to file a dispute online. Additionally, you may choose to file by mail or over the phone. Here is the contact information for the three major credit bureaus:
Equifax: Equifax Information Services, LLC, P.O. Box 740256, Atlanta, GA 30374-0256. Dispute over the phone at (866) 349-5191. Also, you can dispute online or by mail.
TransUnion: TransUnion Consumer Solutions, P.O. Box 2000, Chester, PA, 19016-2000. Otherwise, call the toll-free number (800) 916-8800 or dispute online or by mail.
Additionally, you will need to complete the request form, which can be found on their website.
Review the credit bureau's response
According to the Fair Credit Reporting Act (FCRA), any information deemed false, incomplete, or impossible to verify must be changed or removed from your credit report within 30 days. However, starting in April 2020, the Consumer Financial Protection Bureau temporarily increased that deadline to 45 days due to the COVID-19 pandemic.
The bottom line
A credit report is one of the most important documents you will ever need when getting a mortgage. Therefore, it important to know how to read your credit report and understanding its information, you can take steps to improve your credit score and increase your chances of being pre-approved for a mortgage. Therefore, get started on your mortgage pre-approval today by using our online application. We'll help you with your journey to homeownership.
Metropolitan Mortgage has been in business since 1997, and we have assisted more than 10,000 families finance their homes in the Midwest. If you are looking for a direct lender in Overland Park and the greater Kansas City metropolitan area, we can help. Metropolitan Mortgage offers mortgage lending in the states of Kansas and Missouri.