15-Year Fixed Rate Mortgage
Is a 15-Year Fixed-Rate Mortgage right for you?
We are Mortgage Lenders in Kansas City offering 15-year Fixed-Rate Home Loans. With a 15 year fixed, you repay the principal and interest each month through your monthly payment. Since this is a fixed-rate mortgage, the interest rate stays the same throughout the life of the loan.
The long-term advantage of a 15-year fixed-rate mortgage is that it is cheaper than other mortgage loan options; however, monthly payments are higher than loans with a longer repayment term, like a traditional 30-year mortgage.
What are the Advantages of a 15-Year Fixed-Rate Home Loan?
Most borrowers are concerned more about their monthly payment than how much the loan is going to cost them. Isn't it better to pay the least interest possible to the lender? Well, a 15-year mortgage does just that!
Let us look at the Pros and Cons of a 15-year mortgage, so you can make an informed decision on the best loan for your personal situation.
A Lower Mortgage Rate
The best mortgage rates in Kansas City are lower on a 15-year fixed than say a 30-year or 20-year fixed rate. Thereby paying less in interest and dramatically reducing the borrowing costs over the life of the loan.
Make fewer mortgage payments
A 15-year fixed rate loan term is 180 months versus what a traditional conventional 30-year mortgage that is 360 months, which cuts the number of mortgage payments you make in half.
They cost less than other mortgages
Let's compare a $300,000 mortgage loan on a 30-year and 15-year loan term:
– The monthly principal and interest payment for a 15-year fixed-rate mortgage at 3.0% interest is $2,071.
– If you went with a 30-year fixed-rate mortgage with an interest rate of 3.75%, the monthly payment is $1,389.
– You'd save $682 each month with the 30-year loan, but how much more interest will you pay?
– Choosing the 30-year mortgage for the lower monthly payment will end up costing you $197,000 more than if you went with a 15-year mortgage!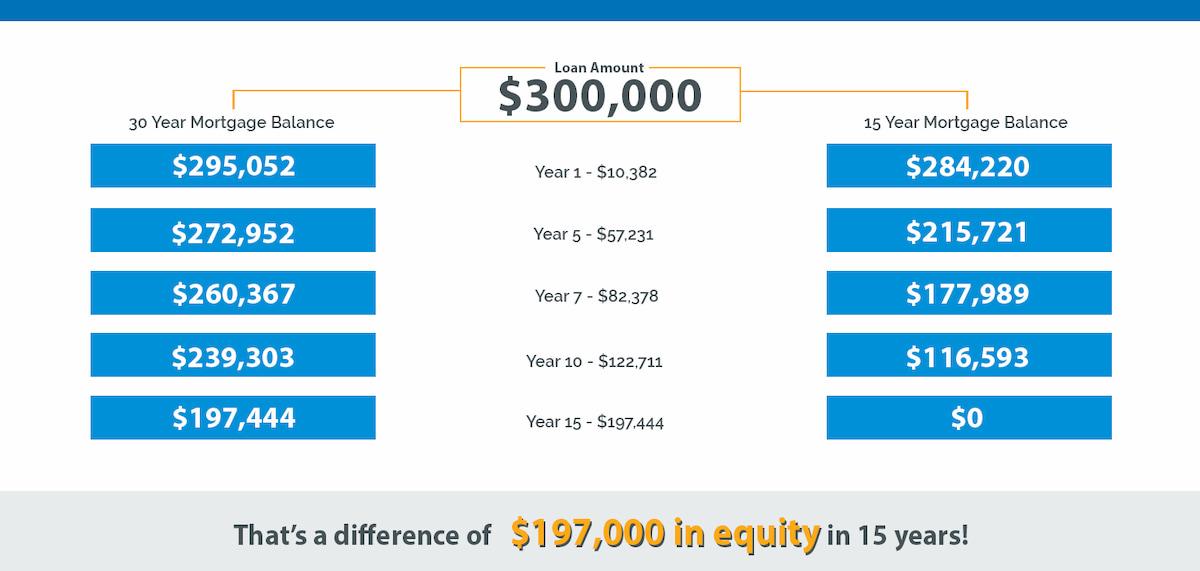 Use our mortgage refinance calculator to see your specific savings
You build your homes equity faster
Because you are paying more to principal and less to interest each month, you build home equity much faster. Home equity is the difference between your mortgage balance and the current market value of your home.
You'll pay a larger mortgage payment each month
For most borrowers, the larger monthly payment is the main drawback of a 15-year mortgage. This means you'll have less money available in your budget each month. This can be a financial strain for some borrowers.
You'll qualify for a lower mortgage amount
The higher monthly payment of a 15-year mortgage will reduce the maximum mortgage amount that you may qualify for. This is important to know if you are looking to purchase a home at the top of your budget.
Tax deductions with a 15-year Fixed-Rate Home Loan
A 15-year mortgage means you pay less interest, which means you have less opportunity to take advantage of the mortgage interest deduction.
When You Should Refinance
Refinancing makes the most sense if you fall into one of the following categories:
You have an adjustable-rate mortgage (ARM).
You have an interest-only loan.
Your mortgage has more than a 15-year term (such as 30 or 20 years).
You have a high-interest rate loan.
You are paying PMI-Private Mortgage Insurance
15-Year Mortgage Amortization Calculator
This mortgage calculator amortization schedule will help you determine how much of your monthly payment will go toward the principal and how much will go toward the interest. You can also use this mortgage calculator to create a printable amortization table for your loan and to estimate the monthly payments on your mortgage. Simply fill in the fields below and click on calculate.
Explore all the Loan Options that are available
Have Questions? Call a Loan Officer at Metropolitan Mortgage today at 913.642.8300.
Get Started on a 15-Year Fixed-Rate Home Loan Today!
If you currently have a 30-year mortgage with a high interest rate, then refinancing to a 15-year fixed-rate mortgage make it a no-brainer.
Yes, it might mean a slightly higher monthly payment. But it will be worth it when your home is paid off 15-years early and you save thousands of dollars in the process?
Whether you're looking to buy a new house or refinance the home you already have, it's important to have someone in your corner who can walk you through all your options.