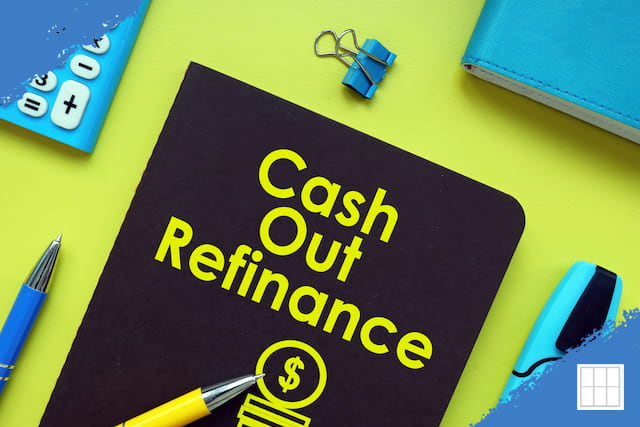 Cash-out mortgage refinance: How does it works
A cash-out mortgage refinance can be a great way to get extra cash when needed. You can use these funds for virtually any purpose. But like any other type of refinancing, you should consider a few things before taking the plunge.
We'll explain what a cash-out mortgage refinance is, how it works, and when it might make sense for you. We'll also share tips for getting the best deal on your new loan. So whether you're considering refinancing or want to learn more about this particular type of loan, keep reading.
What is cash-out refinancing?
In a cash-out refinance, you take out a new mortgage for more than you owe on your existing home loan but less than your home's current value. You'll receive the difference between the new amount borrowed and the loan balance at closing. 
How a cash-out refinance works
With a cash-out refinance, you replace your existing loan with a new one for a higher loan amount. Withdrawing a portion of your home's equity or taking "cash-out." However, there are limitations on how much equity you can obtain. For example, a Conventional loan allows you to take cash out up to 80% of the appraised value.
For example, your home is presently worth $500,000. And you can borrow up to 80% – $500,000 x 80% = $400,000 or the max loan amount. Subtract your payoff balance to determine how much cash-out you can obtain. Let's say your current mortgage payoff balance is $300,000. Subtracting $400,000 – $300,000 would leave you $100,000 available in cash out.
Advantages of cash-out refinance
Mortgages currently have among the lowest interest rates of any loan. That means that cash-out refinancing is one of the cheapest ways to pay for significant expenses. Before you go through with a cash-out refinance, it's essential to consider the advantages and disadvantages of a cash-out refinancing.
Advantages
You may lower your interest rate: This is one of the most common reasons people refinance their mortgages. It makes sense if you want to pay less interest when taking on a larger loan.
You may Eliminate PMI: When you take out a mortgage with private mortgage insurance, like PMI or MIP (costs vary by lender), it can save money in the long run since your new loan won't have this extra cost.
Your cost to borrow could be lower: Taking out a home equity line of credit or borrowing from credit cards or a personal loan can be a more expensive form of financing versus a cash-out refinance. Refinancing with cash-out can be especially advantageous when you need significant money.
You can improve your credit: If you use the funds from a cash-out refinance to pay off debt, your credit utilization ratio will decrease, and your credit score will improve. Paying off debt is essential in determining the interest rates you receive for mortgages, home and auto insurance, credit cards, and more.
You can benefit from tax deductions: Homeowners who plan to use the funds for home improvements and their projects meet IRS eligibility requirements can take advantage of an interest deduction at tax time.
Home improvement projects: There is a significant tax benefit for homeowners who use the funds from their cash-out refinance to make home improvements. The mortgage interest on these projects can be deductible, which means you could save money in both your wallet and with taxes.
Investment purposes: With a cash-out refinance, you can use the equity you've built in your home to build retirement savings or purchase an investment property.
High-interest debt consolidation: Refinance rates are commonly lower than other forms of consolidating debt, such as credit cards. The proceeds from a cash-out refinance used to pay these debts off and pay the loan back with one lower-cost monthly payment.
Child's college education: Education is expensive, so tapping into a home equity loan to pay for college can make sense in most cases.
Disadvantages
Your rate might go up: The new interest rate may be higher than your present rate. However, if you are doing a debt consolidation, it can be advantageous. One of our Loan Officers can help you determine if refinancing is beneficial.
You could be extending your loan term: Ideally, the shorter the term, the less interest you pay, and the longer the term, the lower the monthly payment—way your options to determine the best fit for your situation.
You may use your home as a piggy bank: Using your home's equity to improve your financial decision is a good move. However, continuously tapping into your home's equity to pay for things like vacations is not recommended.
Tax Deductions for Cash-out refinancing
A cash-out refinance may be eligible for mortgage interest tax deductions assuming you're using the money to improve the property. Here is some acceptable home improvements:
Swimming pool or hot tub
Adding a new bedroom or bathroom
Adding a fence around your home
Enhancing your roof
Replacing your windows with storm windows
Adding a central air conditioning or heating system
Installing a security system
In general, these improvements should add equity to your home. Check with a tax professional to see if your project is eligible for a tax deduction.
Are you ready to get started on a Cash-out Refinance?
Metropolitan Mortgage has assisted many home buyers in the Midwest. If you are looking for a mortgage lender in Overland Park or Kansas City metropolitan area, we can help. Metropolitan Mortgage offers cash-out refinance programs in both Kansas and Missouri.
If you have any mortgage-related questions feel free to contact us.
If you are ready to move forward, you can view rates, obtain a customized instant rate quote. Or apply for a mortgage directly from our website.