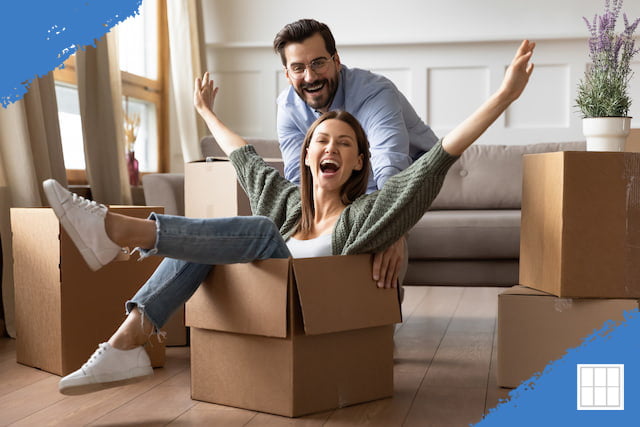 First-time homebuyer loan programs
Are you a first-time homebuyer? If so, there are many loan and program options available to you. This blog post will introduce you to some of the most common first-time homebuyer loan programs.
We'll also provide tips for choosing the right loan for you. So, whether you're just starting your research today or are ready to apply for a loan, read this article for information that can help make the process easier.
What is a first-time homebuyer?
At least one borrower on the loan must be a first-time homebuyer. A "first-time homebuyer" means that you haven't owned any residential real estate in the past three years. Or, if you're buying the home with someone else, at least one of you hasn't owned a home in the past three years.
Learn about buying a home in Kansas
Low-down payment loan programs
If you're looking for first-time homebuyer loan programs, this list has something that will suit your needs. These loans are perfect whether it's low or no PMI and relaxed credit guidelines.
Conventional 97 mortgage
A Conventional 97 mortgage is a conventional loan offered to home buyers with a low to moderate income. This mortgage allows for a minimum down payment of just 3% of the home's purchase price and offers a low-interest rate.
Additionally, you can receive a gift for the down payment and closing costs from an eligible source. This type of mortgage is available through direct lenders like Metropolitan Mortgage. This program does require the completion of an online homeownership education course.
HomeReady mortgage
HomeReady loan programs are designed to help lenders confidently serve today's credit-worthy low-income first-time borrowers. With a down payment of as little as 3 percent with reduced PMI and offers more flexible underwriting. Additionally, you can receive a gift for the down payment and closing costs from an eligible source. This program requires a credit score of 620 or higher and homeowners education.
Home Possible mortgage
The Freddie Mac Home Possible® mortgage helps low-income borrowers attain the dream of owning their own home. In addition, the program offers a low down payment requirement of as little as 3%.
Home Possible offers more options to increase homeownership for more borrowers responsibly. Co-borrowers who do not live in the home can help the borrowers qualify. Additionally, you can receive a gift for the down payment and closing costs from an eligible source.
HomeOne mortgage
The HomeOne® mortgage is a low down payment loan that serves the needs of many first-time homebuyers and is available to qualified first-time homebuyers for a low down payment of just 3%.
This mortgage solution allows more first-time homebuyers to achieve the milestone of homeownership, regardless of their income levels or geographic location. HomeOne® offers sustainable homeownership and improving access to credit.
The HomeOne loan offers more flexibility for maximum financing and provides expanded opportunity and greater certainty to bring more borrowers to the closing table.
FHA loan
An FHA loan is a mortgage backed by the Federal Housing Administration or FHA. This means that the FHA guarantees the lender will get their money back if you default on your mortgage. Because of this guarantee, lenders are more likely to offer FHA loans to borrowers who may not otherwise qualify for a mortgage.
One of the most significant benefits of an FHA loan is that they're available to a first-time homebuyer with lower credit scores. Many lenders will accept scores as low as 580 with a 10% down payment. Additionally, FHA loans come with less stringent requirements than traditional mortgages, making them a good option for first-time homebuyers.
FHA loans also offer some flexibility when it comes to down payments. You can put down as little as 3.5% of the purchase price, which can be a huge help if you're short on cash. Additionally, you can receive a gift for the down payment and closing costs from an eligible source.
VA loan
A VA loan is a mortgage funded by mortgage lenders and insured by the United States Department of Veterans Affairs (VA). This program is available to veterans, active-duty service members, and surviving spouses. Accordingly, VA home loans are designed to help veterans and service members become homeowners with no down payment or private mortgage insurance (PMI).
VA loans come with lower mortgage rates than other types of loans and don't require a down payment. However, borrowers will need to pay a VA funding fee, but it can be rolled into your monthly loan costs. Some servicemembers might be exempt from paying this fee, as well.
USDA loan
A USDA loan is a mortgage loan offered by the United States Department of Agriculture. The program is designed to help low- to moderate-income borrowers purchase homes in rural areas.
USDA loans come with various benefits, including low-interest rates and no down payment requirements. Additionally, the program offers flexible terms and conditions, making it easier for borrowers to qualify for a loan.
To be eligible for a USDA loan, you must meet specific income requirements. You must also purchase a home in an eligible area, typically defined as a rural area or a town with fewer than 10,000 residents.
HomePath Ready Buyer Loan Program
Fannie Mae's HomePath ReadyBuyer program is designed for a first-time homebuyer interested in a foreclosed "HomePath" home. Because after taking the required online homebuyer education course, an eligible homebuyer can receive up to 3 percent in closing cost assistance toward purchasing a HomePath property, which is a foreclosed property that Fannie Mae owns. Of course, this will limit your choice of properties, which also might need repairs, so this program isn't for everyone.
First-time homebuyer education
We believe homebuyer education and counseling are key to successful homeownership. In addition, providing access to the tools and information creates a well-informed borrower with a clear understanding of their housing needs and monthly household budget, allowing them to move confidently through the home buying process.
HomeView is an online, free, interactive, and comprehensive course that helps put homeownership into focus for first-time borrowers. In fact, the course is written in simple terms to help borrowers of all backgrounds learn and navigate the home buying process with the necessary information and resources.
Are you a first-time homebuyer and ready to get started?
Metropolitan Mortgage has assisted many home buyers in the Midwest. If you are looking for a mortgage lender in Overland Park and the greater Kansas City metropolitan area, we can help you. Metropolitan Mortgage offers first-time homebuyer loan programs in both Kansas and Missouri.
Contact us if you have any mortgage-related questions. In case, you are ready to move forward, you can view rates, obtain a customized instant rate quote, or apply for a mortgage directly from our website. It is worth getting started on mortgage pre-approval, especially if you plan to buy a home in the next 120 days.